Contact Us
Have something to say? Comments? Questions?
All of these are welcome; just fill out the form below.
---
Mailing List
Keep up to date! Join our mailing list and stay informed about forthcoming titles and events!
---
Manuscript Submissions
Lemon Leaf Press is not accepting submissions for publishing at this time. Unsolicited manuscripts will not be returned.
---

Copyright © 2010 Lemon Leaf Press. All rights reserved.
Lemon Leaf Press, 10 Schalks Crossing Road, Suite 501-211, Plainsboro, NJ 08536
---
Our inaugural title, From Recollection to Recipe, is now available! Click here to learn more about the book.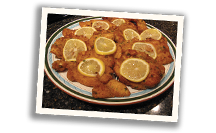 ---
Follow us on facebook
---

---